High level veterinary medicine in the northern suburbs of Athens — ISO 9001: 2015 –
The veterinary center of Kifissia (Castri) corroborates the success in the veterinary field of the veterinary family Papaïoannou.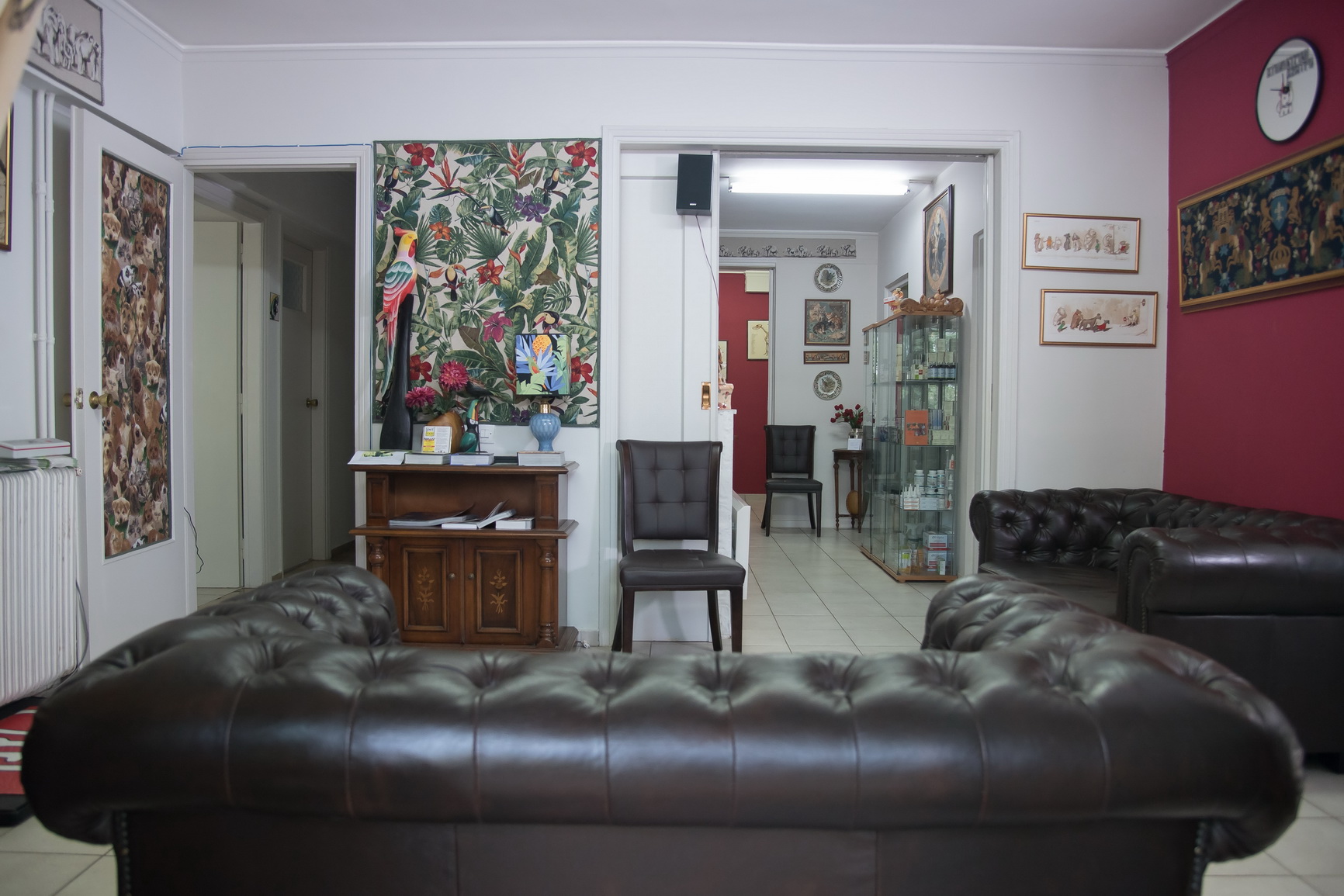 Veterinarians Georges Papaïoannou, Catherine Papaïoannou, Panagiotis Papaïoannou, biologist-parasitologist Martine Papaïoannou as well as all the staff of the "Papaïoannou Veterinary Center" represent the guarantee of a correct and responsible management of each veterinary case.
We are waiting for you in a new, warm and pleasant center in Castri, 1, Konitsis Street and El. Venizelou, with the knowledge, availability and friendliness that characterize us. In our new center, we will be able to nurse any case of general veterinary medicine and deal with specific problems related to dentistry, ophthalmology, acupuncture, animals and exotic birds. We offer a very wide range of services for all pets such as dogs, cats, rabbits, guinea pigs, hamsters, snakes, chinchillas, aquatic turtles, birds and other pets.
The range of services is unique: general medicine, pathology department, surgery department, radiology, ultra sounds, dentistry, cardiology, oncology, microbiology, emergencies, home care, acupuncture, alternative veterinary medicine, hospitalization, exotic birds, veterinary pharmacy, support service, elderly pet care.
The veterinary practice of Kifissia belongs to the "PAPAOANNOU VETERINARY CENTER" which has been controlled and certified in accordance with the requirements of the ISO 9001: 2015 model the activity: HOSPITALIZATION – THERAPY – RECEPTION OF SMALL ANIMALS.
We are at your disposal Monday to Friday from 10:00 to 14:00 and from 17:00 to 20:00. In case our opening hours do not suit you or if you want to consult a particular veterinarian, do not hesitate to contact us as to accommodate your individual needs.
Tel: 210 6206673
[su_row][su_column size="1/4″ center="no" class=""]Hospital and board for small animals
Markopoulo
Fousa Barda , 19003
Tél. 2299023528[/su_column] [su_column size="1/4″ center="no" class=""]Veterinary practice of the Center of Athens
Athens
18, Telemachou,  11472
Tel. 2103642944[/su_column]
[su_column size="1/4″ center="no" class=""]Veterinary practice of Argyroupoli
Argyroupoli
41, Digeni Akrita, 16451
Tel. 2109901655
[/su_column] [su_column size="1/4″ center="no" class=""]Veterinary practice of Kifissia
Kifissia (Kastri)
1, Konitsis  & El. Venizelou
Tel. 2106206673
[/su_column] [/su_row]