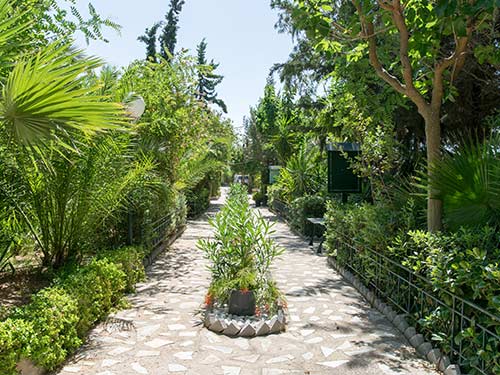 Board for small animals
A real paradise for small animals in a large plot of 16 acres of green space in Markopoulo, Mesogia – ISO 9001 : 2015-
This is the only board for small animals in Greece certified ISO 9001: 2015. A perfect place for relaxation but also security for our little domestic companions. The pension has special places for dogs, cats, birds, snakes, small mammals (rabbits, weasels, rodents). In addition, we have a place for very old animals or with motor difficulties.
This luxury facility pension collaborates closely with the hospital to care for any health problems that the animal may encounter.
You entrust us your animal in complete safety, without any fear since the ISO 9001: 2015 certification guarantees you a stay and a safety doubled by services answering to the highest requirements!
In order to be able to help you in the best possible way, please contact us in advance, provided of course that you are sure that your small animal is equipped with the necessary vaccines and that it is properly de-wormed.
In order for us to accept your reservation and especially that we can accept the entry of your dog in our facilities, it is necessary that its vaccination record is up to date and completed with the related labels.
Essential vaccines:
Five-fold vaccination
Against rabies
Against pneumonia
The vaccination record must be handed to the responsible employee upon your arrival. Deworming for external parasites (ticks, fleas, etc.) takes place during the entry of the animal into our installations thanks to bulbs, necklaces, as well as a global spray of the animal.
The dog's place of residence includes an interior room of dimensions 2×2, air-conditioned (hot-cold) as well as a privative court of dimensions 2×2, which communicates with the room thanks to a small door.
There are also places for dogs of smaller dimensions, but also larger, such as 2×2 rooms, covered verandas 2×2 and 4×4 courses.
The walk and its duration are determined by the veterinarian responsible for the pet boarding for small animals, Georges Papaïoannou.
For cats, it is essential that the vaccination record is up-to-date and duly completed with the labels for each vaccine.
Essential vaccines:
The triple vaccine
Against rabies
Against leukemia
The vaccination record must be handed to the employee responsible, upon your arrival. The application of a deworming bulb is mandatory and is always done in our presence.
The place of residence of cats is specially designed to meet the needs and psychology of these particular friends of our friends-clients.
This is our "cat-place", which has rooms, small or large, heated and a secure courtyard of 150 m2, an exceptional paradise reserved for  sterilized animals.
The nutrition of our host animals is based on rules of health and hygiene. It consists of dry food (croquettes), preserves, a mixture of both and chicken prepared with rice. We also have a full range of pharmaceutical food and of course you are free to bring the food of your choice.
Our area reserved for the reception of animals and exotic birds is a place quite special and unique of its kind where you can entrust us snakes, birds, rodents, turtles …
Given our wide availability of reception areas and the facilities we offer hospitality to very old animals or animals with motor difficulties.
The "Papaïoannou Veterinary Center" Small Animal Board is under the continuous supervision of veterinarian Georges Papïoannou so that together with our specialized staff, we undertake any therapeutic treatment that should be administered to your animal during its reception in our center.
Finally, the stay of your pet in our pension during the day is an important benefit. Your pet will have the opportunity to play, walk, exercise while you are away from home. This helps to meet the vital or entertainment needs of your pet.
The "Papaïoannou Veterinary Center" Small Animal Board is open every day from 10:00 to 14:00 and from 17:00 to 20:00, except on Saturday afternoons, Sundays and public holidays.
The small animal shelter located in Markopoulo Mesogia belongs to the "Papaïoannou Veterinary Center" which has been tested and certified according to the requirements of the ISO 9001: 2015 model for the activity: Hospitalization-Therapy-Reception of small animals.
Contact : Tel/ Fax : 22990.23528
[su_row][su_column size="1/4″ center="no" class=""]Hospital and board for small animals
Markopoulo
Fousa Barda , 19003
Tél. 2299023528[/su_column] [su_column size="1/4″ center="no" class=""]Veterinary practice of the Center of Athens
Athens
18, Telemachou,  11472
Tel. 2103642944[/su_column]
[su_column size="1/4″ center="no" class=""]Veterinary practice of Argyroupoli
Argyroupoli
41, Digeni Akrita, 16451
Tel. 2109901655
[/su_column] [su_column size="1/4″ center="no" class=""]Veterinary practice of Kifissia
Kifissia (Kastri)
1, Konitsis  & El. Venizelou
Tel. 2106206673
[/su_column] [/su_row]