Scientific and technological equipment of high reliability   ISO 9001:2015 –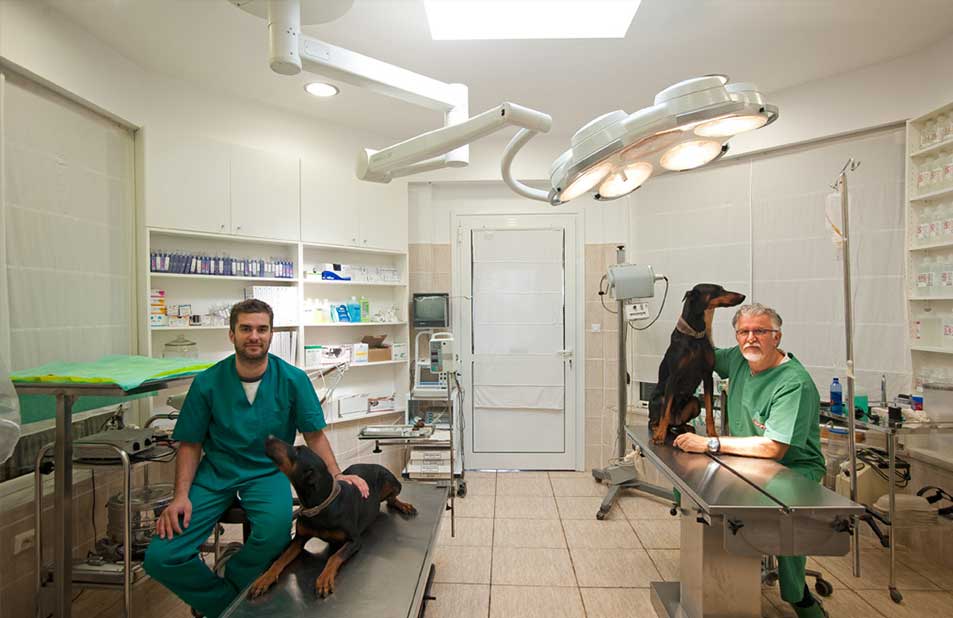 The Small Animal Clinic of the "Papaïoannou Veterinary Center" was founded in 2003 with the aim of providing high level sanitary services to domestic animals. Our facility and equipment allow us to deal with any health problem. At the same time, we are sure that you will feel reassured knowing that your pet is cared for by experienced specialists who will give them their knowledge and all their love. So we are waiting for you to meet our staff who will show you our facilities and the full range of services we offer to all kinds of pets such as dogs, cats, rabbits, guinea pigs, hamsters, snakes, chinchillas, turtles, birds and many more.
In the heart of the region called Mesogia, 2 km from Markopoulo, at the crossroads of Porto Rafti-Vavronas, inside the facilities of the "Veterinary Center Papaïoannou" operates since 2003, the clinic (hospital) for small animals. It is an independent place, adapted to the latest veterinary requirements with modern facilities, up to date medical equipment and highly qualified medical personnel.
Welcome to the Clinic-Hospital of the "Papaïoannou Veterinary Center", a high level and complete animal care facility for small animals. We wish that you and your pet enjoy each of your visits, and that's the reason why we have created a comfortable, friendly and warm atmosphere. We always count on a lasting relationship of mutual trust between you and us.
The capacity of the hospital is 60 places of hospitalization, 20 places in intensive care and 10 places of isolation.
Examination rooms, veterinary practices, laboratories, as well as hospitalization and isolation, are in daily vigilance.
We also inform you that you can visit your pet every day from 18:00 to 19:00. We have limited visiting time so we can focus on the care of your pet.
In our effort to offer the best approach and rehabilitation, we have created a series of sections:
General veterinary medicine: pathology, surgery
Specialized veterinary medicine: ophthalmology, dentistry, cardiology, oncology, exotic animals, birds …
Clinical examinations: X-rays, ultra-probes, cardiograms, endoscopies
Laboratory analyzes: blood tests (general, biochemical), parasitological examinations, hormonal examinations, analyzes (of urine, feces, dermatological lesions), biopsies …
Veterinary pharmacy: medicines of traditional medicine, Ayurveda, cosmetics, dietary supplements, diets.
Counseling services: procreation, nutrition, motor difficulties, gerontology.
Acupuncture-Ayurvedic Medicine
The Papaioannou  veterinary family, with all their collaborators, waits for you every day from 10:00 to 20:00, continuously, as well as on Sundays (by appointment only), from 10:00 to 14:00 to offer to your little companions care of the highest level.
The Clinic-Hospital for small animals located in Markopoulo belongs to the "Papaïoannou Veterinary Center" which has been controlled and certified in accordance with the requirements of the ISO 9001: 2015 model for the activity: Hospitalization-Therapy-Reception of small animals.
Contact: Tel / Fax: 22990.23528
[su_row][su_column size="1/4″ center="no" class=""]Hospital and board for small animals
Markopoulo
Fousa Barda , 19003
Tél. 2299023528[/su_column] [su_column size="1/4″ center="no" class=""]Veterinary practice of the Center of Athens
Athens
18, Telemachou,  11472
Tel. 2103642944[/su_column]
[su_column size="1/4″ center="no" class=""]Veterinary practice of Argyroupoli
Argyroupoli
41, Digeni Akrita, 16451
Tel. 2109901655
[/su_column] [su_column size="1/4″ center="no" class=""]Veterinary practice of Kifissia
Kifissia (Kastri)
1, Konitsis  & El. Venizelou
Tel. 2106206673
[/su_column] [/su_row]